Bogdan Miscevic
Associate Lawyer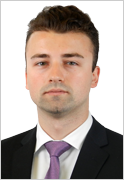 A Focus on Insurance Defence Litigation
Profile:
Bogdan has a wide litigation practice and routinely acts on behalf of a number of insurers with respect to a variety of insurance matters. His practice focuses on accident benefits, tort liability claims, personal injury and privacy law. Prior to attending law school, Bogdan worked as an Accident Benefits Adjuster for a leading Canadian insurance company, where he gained invaluable experience by directly managing over two hundred motor-vehicle claims.

While in law school, Bogdan worked as a case worker for Community Legal Aid and, interned for a prominent judge at the Third Judicial Circuit of Michigan. As well, for his outstanding academic achievement in the area of litigation and trial advocacy, Bogdan was the recipient of the prestigious Trial Practice Book Award, which is given to the student with the highest grade in the class.

Bogdan has appeared before the Superior Court of Justice, the Financial Services Commission of Ontario (FSCO), and the Licencing Appeal Tribunal (LAT). He has written for a number of publications, including OIAA's Without Prejudice Magazine. By combining his extensive work experience with a strong work ethic, Bogdan ensures all of his clients' legal issues are resolved as efficiently and effectively as possible.

In his spare time, Bogdan enjoys catching up on current political affairs. He is fluent in the Serbian language, and is a passionate chess player.