Bogdan Miscevic
Associate Lawyer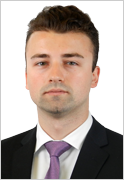 A Focus on Civil Litigation
Profile:
Bogdan has a wide litigation practice and routinely acts on behalf of a number of insurers with respect to a variety of insurance matters. His practice focuses on complex cases and he has extensive experience in Accident Benefits including Loss Transfer and Priority Disputes, Tort Claims, Occupiers' Liability, Commercial Litigation and Privacy law. Prior to attending law school, Bogdan worked as an Insurance Claims Adjuster for a leading Canadian insurance company, where he directly handled hundreds of motor-vehicle claims.

Bogdan has appeared before the Superior Court of Justice, the Financial Services Commission of Ontario (FSCO), and the Licence Appeal Tribunal (LAT). He has written for a number of publications, including OIAA's Without Prejudice magazine. Bogdan is regularly invited to speak and give presentations at various insurance industry events including the Ontario Risk and Insurance Management Society (ORIMS), the Osgoode Professional Development as well as numerous other client seminars. As well, Bogdan is on the Ambassador Committee for the Young Insurance Professionals of Toronto.

While in law school, Bogdan was the recipient of various awards and recognitions including the prestigious Trial Practice Book Award, which is given to a law student with the highest grade in the class. Also, while in law school, Bogdan furthered his litigation and trial advocacy skills by volunteering at Community Legal Aid and interning for a prominent judge at the Third Judicial Circuit of Michigan.

Bogdan joined McCague Borlack LLP in 2014 as a summer student. After successfully completing his articles with the firm in 2015, Bogdan joined the firm as an associate in 2016. He is fluent in the Serbian language, and is a passionate chess player.