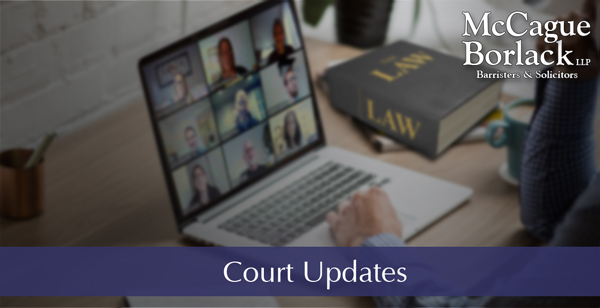 August 10, 2020
Updates around Civil Matters in the
Superior Court of Justice in the Central East Region


Howard Borlack
Partner

by Paul Jacoby and Howard Borlack
The following are some updates around civil matters in the Superior Court of Justice in the Central East Region. Please note they are all subject to change.

Civil Trials: sittings scheduled for November 16, 2020, have been cancelled.

Civil Non-Jury Trials: that have been pre-tried and had been scheduled for trial in November 2019 or May 2020 will go on a running list, anticipated to be called starting on October 5, 2020 (with 48-hour notice), and the option to conduct the trial via Zoom.

Civil Jury Trials: it is uncertain if any civil jury cases will proceed to trial before May 2021.

Judicial Pre-Trials: those scheduled as of July 27, 2020, will proceed as scheduled. There is no requirement that the parties certify that the case is capable of settlement, although the focus will be on settlement and not trial management.

Procedure for Booking a Judicial Pre-Trial: counsel with carriage of the file must initiate a request, by email, for a Pre-Trial through a summary of the nature of the cause of action, why a pre-trial would be of assistance, and whether any settlements discussions have taken place. Opposing counsel must be notified.

If counsel opposes the request, they have 48 hours from the pre-trial request to respond, through email, explaining why a pre-trial should not be held. A triage Judge will inform the parties of their decision in writing.

Pre-Trial Memos: will be filed unless and until the pre-trial request has been granted. Counsel may submit additional documents for review, along with their pre-trial memo.

Pre-Trials: will be held by Zoom, as arranged by the Court. Only counsel, self-represented parties, and the pre-trial judge may be present. No recordings are permitted unless a party is self-represented, and there is direction from the presiding Judge. Neither recordings nor transcripts may be released without an order from the Judge. A pre-trial judge may speak with counsel and/or their client separately. Clients, or certified representatives of corporations with the authority to settle, must be present. At the conclusion, Orders will be electronically forwarded to the pre-trial Judge for electronic signature.

Rule 7 Motions: may be brought in writing and exhibits will be made available electronically.

Civil Motions on Consent: will be heard by the Court in writing. The reviewing judge will sign the draft Order, and the moving party is responsible for providing this copy to all responding parties within 7 days of its receipt.

Contested Short Civil Motions: will be heard in writing or via Zoom on counsel's request.

Long Motions: will be heard via Zoom. Rescheduled hearing dates can be requested, if counsel had booked a long motion as of March 17, 2020.

Estate Matters: will be dealt with by the court, so long as materials are submitted to the proper generic email address.

---

If you have any questions regarding the above information, please contact Howard Borlack at 416.860.0054.
---
TORONTO | OTTAWA | KITCHENER | BARRIE | LONDON

416.860.0001 | mccagueborlack.com | Follow us on Twitter or Linkedin
McCague Borlack LLP is a member of the Canadian Litigation Counsel, a nationwide affiliation ofindependent law firms. Through CLC's association with The Harmonie Group, our clients have access to legal excellence throughout North America, the U.K. and Europe.