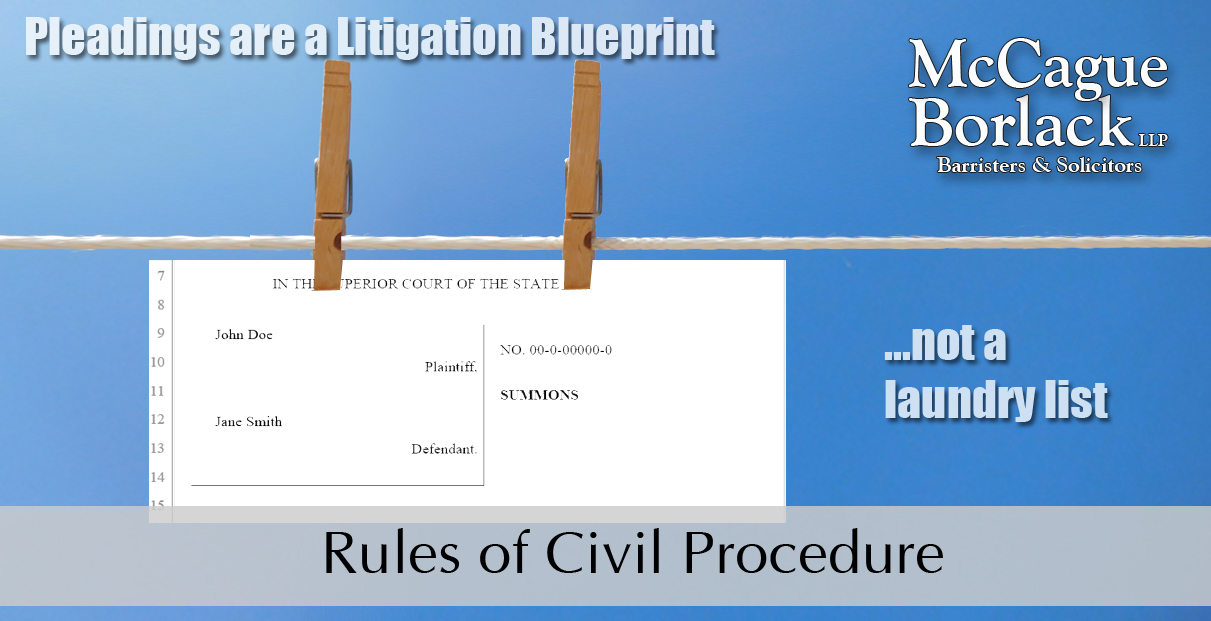 A Plea for Simple Pleadings

May 2020

You have just been sued for breach of contract by a former business partner.
As you skim through a legal document that sets out a laundry list of your alleged failures and faux pas, a few paragraphs jump out at you. Why does the document make reference to an argument over the design of your company's logo? And why is there commentary on the not-so-secret office romance between two of your employees? As far as you can tell, neither of these issues have anything to do with the contract in dispute.
Puzzled, you contact your insurance company and/or lawyer and explain the situation. You are told not to worry about the language of the pleading, that allegations do not amount to evidence, and to sit tight while a defence is prepared for you.
This hypothetical situation is increasingly the reality across a wide range of legal practice areas, whether in commercial litigation, personal injury, family, or employment law. Rather than a succinct statement of facts and allegations, some pleadings read more like fiction novels, replete with character development, vivid scene-setting and unexpected plot twists.
In a recent class carriage motion, Justice Perell, clearly fed up with this trend, admonished the language used in the plaintiffs' claims as:
"prolix, tedious, whiningly-polemic, conceited, pompously preachy, wanting in objectivity, and grossly overstated... the prose in the immediate case may be designed to please the Class Members or to vilify the Defendants in the media, but, speaking for myself, the prose in the immediate case, particularly in the Statement of Claim, is disappointing and unprofessional."1
Justice Perell counted 155 out of a total of 255 paragraphs in the set of pleadings before him that violated the Rules of Pleading.
But what exactly are the Rules of Pleading, and what can a party do if they feel that a pleading against them oversteps into prejudicial territory? Before exploring the answers to these questions, it is helpful to remember the role of the pleading itself.
What Is a Pleading?
Pleadings are meant to set out a concise statement of the material facts...
A pleading can be thought of as a basic blueprint for litigation. Pleadings are meant to set out a concise statement of the material facts on which the party relies for the claim or defence, but not the evidence by which those facts are to be proved.2
Master Haberman has helpfully characterized a pleading as: "a framework for the action, to be used for the purpose of disclosure and then, at trial. That framework is then filled in through the discovery process. Pleadings should be viewed more as the synopsis rather than the book. They should, therefore, be as precise as possible."3
As Justice Dunphy explained in DeMasi v the Corporation of the City of Toronto, 2017 ONSC 1916: "Fancy language or legal terminology is not required [in a pleading]. Clarity is."4
The Rules of Pleading
Rule 25.06 sets out a few specific requirements that are collectively referred to as the Rules of Pleading:
Pleadings are to be a concise statement of material facts (but not evidence).
A party may raise any point of law in a pleading, but conclusions of law may be pleaded only if the material facts supporting them are also pleaded.
A party may make inconsistent allegations in a pleading where the pleading makes it clear that they are being pleaded as alternatives. If an allegation is subsequently made that is inconsistent with an allegation made in a party's pleading or if that allegation raises a new ground of claim, the pleading must be amended.
Where a pleading contains a claim for relief, the nature of the relief claimed must be specified.
Where damages are claimed, the amount claimed for each claimant in respect of each claim must be stated. The amounts and particulars of special damages need only be pleaded to the extent that they are known at the date of the pleading; but once further amounts and particulars become known, they must be delivered forthwith.
Remedies for Breaches
If the above rules are broken in a manner that is manifestly unfair, a motion to strike the claim under Rule 25.11 can be advanced. According to this Rule, the court can strike out or expunge all or part of a pleading on the grounds that the pleading
may prejudice or delay the fair trial of the action,
is scandalous, frivolous or vexatious, or
is an abuse of the process of the court.
Even relevant portions of a pleading can be struck out if the facts pleaded "are so prejudicial that they should be struck out in spite of their relevance."5
A relatively recent example of a defendant successfully moving under Rule 25.11 is Taylor v Canada Cartage Systems Diversified GP Inc., 2018 ONSC 617. The case featured a Statement of Claim that rambled on for 108 paragraphs over the span of 45 pages. The only tenable cause of action was wrongful dismissal against the plaintiff's former employer. However, the plaintiff's pleading included background narrative on an alleged conspiracy by the defendant to hire undercompensated and overworked drivers, the details of a WSIB claim stemming from a prior workplace injury, and lots of speculation as to the defendant's motives without any corresponding facts.
Daley, R.S.J., as he then was, determined that the Statement of Claim was wholly deficient and struck out the pleading in its entirety. He relied on the seminal case of Wilson v Wilson,6 which stands for the proposition that "a pleading of fact will be struck if it cannot be the basis of a claim or a defence in the action and is designed solely for the purpose of atmosphere... If the only purpose of the pleading is to cast the opposing party in a bad light, it will be struck."
Key Takeaways
While hyperbolized language and irrelevant background details in pleadings are often written off as "artistic liberties," they can nonetheless be stressful and damaging to persons or corporations who do not want the allegations publicly associated with their name.
If a pleading discloses inflammatory and/or irrelevant remarks that have the potential to prejudice the fairness of the litigation, a Rule 25.11 motion to strike may be considered to expunge the remarks altogether.
Depending on the nature of the dispute, Rule 25.11 can also be used to supplement motions brought pursuant to Rule 20 (summary judgment) or Rule 21 (determination of an issue before trial). This strategy can hedge the moving party's bets in the event the motion is only partially successful. As always, it is important to tactically weigh the merits of such motions on a case by case basis.
---
Del Giudice v Thompson, 2020 ONSC 2676, paras. 70-71.
Rule 25.06 of the Rules of Civil Procedure, RRO 1990, Reg. 194.
Pineau v Ontario Lottery and Gaming Corp., 2011 ONSC 5822, para. 25.
Para. 9.
Carny Timber Co v Pabedinskas, [2008] OJ No 4818 (QL), para. 17.
[1948] OJ No 62 (HCJ).
---
TORONTO | OTTAWA | KITCHENER | BARRIE | LONDON

Copyright McCague Borlack LLP - Legal Notice | mccagueborlack.com | Follow us on Twitter
McCague Borlack LLP is a member of the Canadian Litigation Counsel, a nationwide affiliation of independent law firms. Through CLC's association with The Harmonie Group, our clients have access to legal excellence throughout North America, the U.K. and Europe.