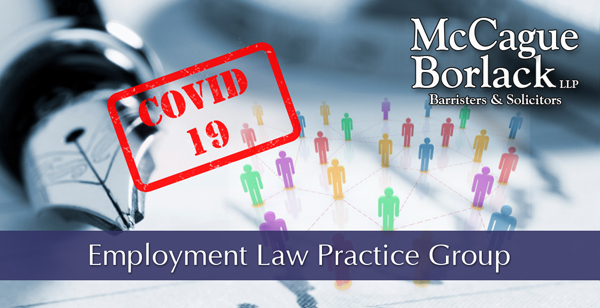 March 18, 2020
Employment Law in regards to COVID-19


Martin Smith
Partner
During this unprecedented time, McCague Borlack LLP recognizes that many of our clients – as employers, will be facing multiple challenges with respect to their employees working from home remotely, staggered work schedules, and providing information to their staff as developments concerning the novel coronavirus (COVID-19) occur on almost an hourly bases.
The employment law practice group at our firm is open for business and able to assist all of our respective clients as they deal with the foregoing challenges, amongst others. In addition, we can assist with the upcoming changes to the Employment Standards Act that will be tabled shortly with the legislature in response to the recent declaration of a provincial emergency. Our lawyers are working remotely in all of our respective offices and are available to assist in understanding the amended legislation and its implementation going forward.
The chair of the employment law practice group, Martin Smith, can be reached at 613-566-5970 or msmith@mccagueborlack.com to answer any of your questions or put you in touch with a member of the firm's employment law practice group in either of our offices in Ottawa, Toronto, London, Kitchener, or Barrie.
---
TORONTO | OTTAWA | KITCHENER | BARRIE | LONDON

416.860.0001 | mccagueborlack.com | Follow us on Twitter or Linkedin
McCague Borlack LLP is a member of the Canadian Litigation Counsel, a nationwide affiliation ofindependent law firms. Through CLC's association with The Harmonie Group, our clients have access to legal excellence throughout North America, the U.K. and Europe.