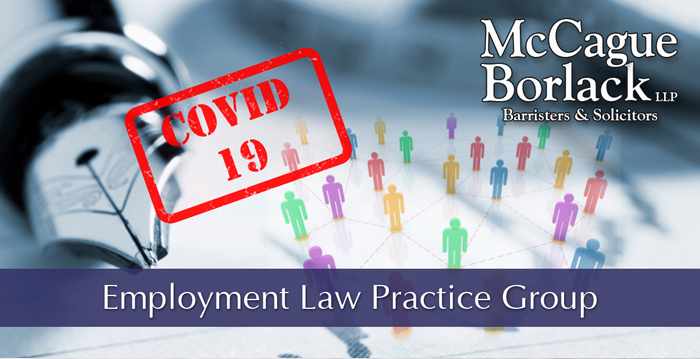 New Financial Support for Workers Relying on Government Benefits during the COVID-19 Pandemic


Martin Smith,
Partner

October 2020

By Martin Smith and Carly Jacuk


Many Canadians felt panic over the last month as the expiry date for the Canada Emergency Response Benefit ("CERB") loomed. As of October 3, 2020, Canadian workers who were relying on the CERB for financial support saw this benefit come to an end.

However, in response to this looming expiry date, the House of Commons sprung in to action on September 29, 2020 to unanimously pass Bill C-4: An Act relating to certain measures in response to COVID-19.

Bill C-4 was also quickly passed by the Senate, and it received Royal Assent on October 2, 2020.

The bill authorizes new benefits for workers who have been or will be terminated, laid off, or left underemployed as a result of the COVID-19 pandemic. These benefits were applied retroactively as of September 27, 2020 to avoid the gap in coverage that would have otherwise resulted when the CERB expired.

The bill also expanded the eligibility criteria for sick leave benefits and benefits available to caregivers.

Many of the workers who were relying on the CERB have now been transitioned to a new employment insurance ("EI") regime. This reformed regime is intended to be more flexible and generous to applicants, with the goal of allowing more Canadian workers to qualify for EI benefits.

Workers eligible to receive EI benefits under this new regime may receive a payment of $500.00 per week, consistent with the previous CERB amount.

Canada Recovery Benefit

Those workers who do not qualify for benefits under the improved EI regime may be eligible to receive a new benefit called the Canada Recovery Benefit ("CRB"). The CRB is intended to extend support to self-employed workers ineligible for EI who still require income support.

To qualify for the CRB, workers must have

still not returned to work due to COVID-19; or
experienced an income reduction of at least 50 per cent.

Like the new EI regime, the CRB provides eligible workers with a $500 benefit each week, and is available to qualifying workers for up to 26 weeks.

Sick Leave Benefit

...only those workers who are required to take a leave from their employment due to having contracted COVID-19...

With regard to the sick leave benefit, under the initial COVID-19 legal framework, only those workers who were required to take a leave from their employment due to having contracted COVID-19 were eligible to receive the benefit. In contrast, under the new framework, the sick leave benefit has been extended to Canadian workers who have underlying health conditions or illnesses that make them more susceptible to COVID-19, including the flu or the common cold.

Canada Recovery Caregiving Benefit

Lastly, a Canada Recovery Caregiving Benefit ("CRCB") is now also available to Canadian workers. Under the CRCB, eligible workers may receive $500 per week for up to 26 weeks per household if they are unable to work due to caregiving responsibilities. Specifically, for Canadians unable to work because schools, daycares, or care facilities are closed as a result of COVID-19, or because a child or family member is sick and/or is required to quarantine, this benefit may be available.

As many Canadian provinces head into another wave of COVID-19 this fall, the Canadian Government has passed this bill with the goal of ensuring Canadian workers are not left behind during this difficult economic time.

With big hopes for the bill's impact on the financial health of Canadian workers, it will be interesting to watch how these new support initiatives play out over the coming weeks and months.



---


The chair of the employment law practice group, Martin Smith, can be reached at 613-566-5970 or msmith@mccagueborlack.com to answer any of your questions or put you in touch with a member of the firm's employment law practice group in any of our offices in Ottawa, Toronto, London, Kitchener, or Barrie.

---

TORONTO | OTTAWA | KITCHENER | BARRIE | LONDON

Copyright McCague Borlack LLP - Legal Notice | mccagueborlack.com | Follow us on Twitter

McCague Borlack LLP is a member of the Canadian Litigation Counsel, a nationwide affiliation of independent law firms. Through CLC's association with The Harmonie Group, our clients have access to legal excellence throughout North America, the U.K. and Europe.