Martin Smith
Managing Partner - Ottawa Office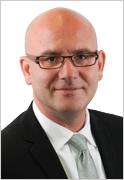 Chair of the Firm's Employment Law Practice Group
Profile:
Martin is the managing partner of the firm's Ottawa office, which was launched in September 2012.

Martin exclusively practices civil litigation, specializing in the areas of employment law, human rights, professional liability, and insurance law. He also represents both employee and employer clients and professional clients practicing in areas such as veterinary medicine and chiropractic care.

As well, Martin practices in the areas of occupiers' liability for insurers, municipal clients and clients with self-insured retentions. He also regularly defends equestrian riding operations in addition to regularly assisting insurers in advancing subrogated claims.

He has appeared before the Ontario Labour Board, the Canadian Industrial Relations Board, the Ontario Health Professions Board, the Ontario Superior Court of Justice, Divisional Court, the Human Rights Tribunal of Ontario, and the Ontario Court of Appeal.