Keeping Tabs
McCAGUE BORLACK LLP
If you want to be notified when we post a new article, Register Here or follow us on Twitter, LinkedIn or Facebook.

News
NEWS UPDATED August 15, 2022
August 15 - In honour of the affected families and communities, the firm has once again chosen to recognize National Day for Truth and Reconciliation by closing McCague Borlack's five offices on September 30th.
August 15 - Welcome back to our summer students of 2021 who are now our articling students 2022 - Anita Zamani, Winona Fitch, Alexandria Bonney, Dominique Mesina & one new face Matt DeSumma. To read their bios see our student page.
August 11 - Learning the Law, and the Trade - law student blog by Max Gill.
August 2 - Field Trips - Expect the Unexpected - law student blog by Rotem Fellus.
July 28 - Ontario Court of Appeal Upholds Decision to Deny Coverage for Tort of Intrusion upon Seclusion Claims - Case Comment: Demme v. HIROC by Eric Turkienicz and Naomi Santesteban
July 18 - Get to know our newest lawyer, Stephen Robinson - read his bio
July 18 - Stephen Barbier will be speaking at the National Academy of Forensic Engineers - NAFE conference on July 24th. His topic will be Product Liability Litigation in the Globalized Marketplace: Technical Aspects of Seeking Recovery Against Out-of-Jurisdiction International Manufacturers - register at https://lnkd.in/dk_iaMN #productliability
July 14 - Learning by Doing: Examination for Discovery a student blog by Naomi Santesteban
July 12 - Determination of Notice Periods for Rehired Employees Post CCAA Proceedings - Case Comment: Antchipalovskaia v. Guestlogix by Howard Borlack and Chanpreet Shokar
July 5 - The Summer Students' First Day In Person! a student blog by Madeleine Cleland
June 29 - Judge vs. Jury: Considerations for Medical Malpractice Cases by Martin Smith & Desneiges Mitchell
June 29 - Welcome to our newest law clerk Leanne Selevich - read her bio to get to know her.
June 27 - My First Mediation - A student blog by Chanpreet Shokar
June 24 - Breaking The Blunt Arrow: Bill 27's Ban on Non-Compete Agreements by Martin Smith & Desneiges Mitchell
June 20 - What's happened so far: the first few weeks... a student blog by Arjun Raju
June 15 - Say hello to our new lawyer, Lyrica Roche, located in Toronto. Read her full bio.
June 15 - Initial Summer Student Experience: Here's to Growth! - a student blog by Alan Meka.
May 30 - Handling my own Small Claims File - a new student blog by Tess Doane
May 20 - Say hello to our newest law clerk, Elizabeth Couto, located in our Kitchener office. Read her full bio.
May 10 - The Lawyer's Daily picked up Eric Turkienicz and Paul Jacoby's article (updated title) Dispensing with dispensaries: Pot shops on every corner
May 3 - BC Court Decides CERB Payments Should Count Against Damages for Wrongful Dismissal by Martin Smith and Tess Doane
April 28 - Minimum Maintenance Standards and Municipal Sidewalks - Case Study: Cromarty v. Waterloo (City) by Van Krkachovski & Conner Sipa of McCague Borlack LLP
April 25 - Passing the Buck: Payment of Productions in Personal Injury Litigation - Case Comment: Endale v. Parker by Garett Harper and Conner Sipa
April 25 - Say Hello to our newest lawyer, Matthew Chomyn, working out of the Toronto and Ottawa offices - read his bio.
April 22 - Family Law on Monday, Privacy Law on Tuesday, and Transportation Law on Wednesday... student blog by Paul Jacoby
April 18 - Not-for-profits ~ BEWARE: Federal privacy laws can apply to not-for-profit corporations by Theresa Hartley and Paul Jacoby
April 12 - Say hello to MB's newest lawyer, Andrew Rodrigues, working out of the Toronto and Barrie offices - read his bio.
April 1 - Financial Planner and Advisor Titles: A New Framework is Announced by Howard Borlack
April 1 - 'Unparalleled Production' and Lessons for U.S. Litigants Seeking to Compel Discovery of Third-Parties in Ontario - Case Study: Activa TV Inc. v Matvil Corp by Howard Borlack and Conner Sipa
March 28 - Articling in 270 rows - newest student blog by Conner Sipa
March 24 - The Difficulties of Relying on the Minimum Maintenance Standards - Case Study: Lloyd v Bush By Van Krkachovski and Tess Doane
March 21 - Welcome to Tonia Jiao, our newest lawyer in Toronto. Read her bio.
March 15 - Welcome to our newest Law Clerk, Vineeta Mishra in Toronto. Read her bio.

March 2 - Congrats to our partners, Howard Borlack and Van Krkachovski, who have been recognized once again in the Canadian Legal Lexpert Directory in 2022 for their work in the practice areas of (HB) Construction and Infrastructure Law, and (VK) Personal Injury and Commercial Insurance.
February 11 - Striking a Jury Notice – Not so fast! by Eric Boate of McCague Borlack LLP
February 7 - No Escape from a Policy Breach Even Years Later Case Study: Trial Lawyers Association of British Columbia v. Royal & Sun Alliance Insurance By Jessica Grant
February 3 - Improperly sued? Can you recover costs if the action is dismissed? Rule 23.05 - By Alan Drimer
February 1 - UPDATED VERSION - What are separated parents' rights when one of them refuses to vaccinate their child against COVID-19? By Dennis Molnar and Paul Jacoby
January 24 - We are excited to announce the following lawyers were invited to join the firm partnership - Lisanne McCullough, Alex Robineau, and Douglas Treilhard. Congratulations!

In January 2022, McCague Borlack LLP announced an exciting new relationship with TINTI LLP in Muskoka. Our specialized litigation lawyers will be sharing office space with TINTI LLP, assisting their real estate and business clients with their litigation needs, and providing services to the greater Muskoka community in such other areas as Employment Law, Construction Law, Human Rights, COVID policies/mandates, contractual disputes, and other general litigation matters.
January 7 - Student blog - Look for a Firm That Includes Students in Decision Making by Sandra White
December 7 - Admissibility of SPECT Scans as Evidence - Case Study: Meade v. Hussein, 2021 ONSC 7850 By Alan Drimer
November 15 - Articling: Expectation vs. Reality by Tess Doane
November 10 - What are "separated parents' rights" when one of them refuses to vaccinate their child against COVID-19? By Dennis Molnar and Paul Jacoby
November 9 - HBC Trademark Troubles: A review of the Zellers trademark dispute between HBC and a Quebec retail family by Mila Falkenstein and Adam Ostermeier
November 9 - Announcing our 2022 Summer Students! Alan Meka (Windsor), Arjun Raju (Osgoode), Chanpreet Shokar (Osgoode), Madeleine Cleland (Queens), Naomi Santesteban (Osgoode)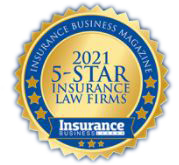 November 2 - IBC surveyed insurance companies to find out which lawyers and law firms are setting the standard in the Canadian market. McCague Borlack and Howard Borlack individually made the 5-Star list!
October 26 - Revisiting Governmental Immunity in Negligence Claims - Case Study: Nelson (City of) v. Marchi by Alan Drimer
October 25 - The Big Jump: The voyage from law student to lawyer - student blog by Sandra White
October 18 - Say hello to MB's newest Toronto lawyer, Jana Smith.
October 15 - CLC appoints Sanja Kraljevic as Executive Director. Read her goals and visions. Sanja is counsel at CLC's BC affiliate firm, where she will continue to practice part-time - read Sanja's full profile on the WT site.
Oct 4 - How does articling compare to law school? A student blog by Paul Jacoby
Sept 28 - Amending to Add Family Law Act Claims: Not So Fast! By Eric Boate
Sept 20 - Get updated profile info on our latest student to 2021 associate hire - Adam Ostermeier
Sept 20 - The Pendulum Swings towards Employer-Driven Mandatory Vaccination Policies By Martin Smith and Paul Jacoby
Sept 15 - With our new lawyer, Mila Falkenstein, comes a new practice area "Trademark Law". Read up on it and Mila's bio to get the big picture of what this area covers.