Garett Harper
Associate Lawyer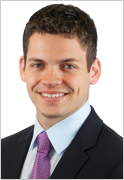 A Focus on Insurance Defence
Profile:
Garett practices civil litigation with an emphasis on insurance defence. His broad practice focuses on transportation law, sport law, and personal injury. Garett has participated on complex litigation files with subject matter ranging from motor vehicle accidents to professional liability at all stages of the litigation process including examinations for discovery, mediations, pre-trial preparation and trial preparation.

While at University, Garett performed as a Case Worker and a Case Manager at the Sport Solution Clinic providing legal services for Canada's national athletes and representing their interests on a national and international scale.

Also at Western, Garett had samples of his work published in the World Sport Law Report, the International Sports Law Review, and the Sport Dispute Resolution Centre of Canada's newsletter "In the Neutral Zone". He also contributed to publications "Canadian Commercial Reorganizations: Avoiding Bankruptcy" and "Secured Transactions in Personal Property in Canada (2nd Ed.)".

When away from the office, Garett enjoys participating in (or watching) sports especially football and hockey (and is an avid Detroit Red Wings fan), or he can be found relaxing at his family cottage.