Keeping Tabs
McCAGUE BORLACK LLP
Keep up with our lawyers and staff in the news, press releases, and legal decisions related to our firm or the legal field as a whole, also see our Featured Cases page.

News
NEWS LAST UPDATED NOVEMBER 24, 2015
November
November 24 - Newest Student Blog title Forget the molehills by Michael G.
November 12 - New Transportation Law Article: Uber Now Delivers - By Leona Kung
November 11 - New Transportation Law Article: Developments in Loss Transfer: Does the doctrine of laches apply to bar delayed claims? by Michael Blinick and Sean Valentine.
November 10 - New Transportation Law Article: Autonomous Vehicles - The Next Frontier - by Rory Barnable and Mahdi Hussein
November 9 - New Employment Law Article: Termination Provisions and Employment Contracts: The New Order by Martin Smith and Cassandra Khatchikian
November 6 - New Employment Law Article: Probationary Employees: Employers' Termination Rights and Restrictions by Martin Smith and Carol-Anne Wyseman
November 2 - Get to know all our 2015 Call Associates: See bios published for Anthony Gatensby, Ben Carino, Divya Khurana, Garett Harper, Irina Sfranciog, Josh Sugar, Michael Vrantsidis, Sean Valentine
November 2 - Newest Student Blog title Don't judge a book by its cover by Navid G.
October
October 27 - Newest Student Blog title My First Civil Jury Trial (Yes while Articling!) by Alex R.
October 26 - Two new Case Study articles added to the database re: Waiver Defence: Trimmeliti v. Blue Mountain Resorts Ltd. and Levita v. Alan Crew et al
October 23 - New Case Study - State Farm v. Old Republic Insurance, 2015 ONCA 699: Re: Heavy Commercial Vehicles
October 21 - New article - A "Victory for Common Sense": Uber Continues to Operate Legally in London, UK
October 15 - Guest Writer on our Student Blog titled Brushing your Teeth in the Shower: Time Management by David Elmaleh
October 7 - Newest Articling Student Blog Hard Hat and a Briefcase by Aryeh S.
October 2 - Newest Articling Student Blog You v. Articling, [2016] 01 MB_Articling 10 (MB) by Bogdan M.
September
September 25 - Newest Articling Student Blog First Appearances at Motion Court by Leona K.
September 21 - Articling Student Blog Training from hell - Louis Litt Style? by Christine L.
September 3 - Articling Student Blog Tips for the Bar Exam by Michael G.
August
August 28 - Summer Student Blog titled Lawyers' Advice For Your Last Year Of School by Shayan K.
August 20 - Congrats to the MB softball team for making it all the way to the semis and giving the 1st place team something to worry about! Next year!
August 11 - Summer Student Blog titled A Summer for the Books: Practical Legal Skills Acquired by Mahdi H.
July
July 31 - Summer Student Blog titled An Actual Day as a Summer Student: Follow me by Karen B.
July 28 - David Elmaleh will speak on What you can do to make yourself indispensable and invaluable at the Toronto Lawyers Association's 5th Annual Articling Students Head Start Program on Sept 17
July 24 - Michael Blinick and Paul Jonah are successful in defending the various owners and operators of Cloverdale Mall, in the case of Jung v Cloverdale Mall Inc. (and awarded costs!) Read the whole case summary.
July 23 - Summer Student Blog titled Legal Practice versus TV Legal Dramas by Tiffany S.
July 17 - Summer Student Blog titled OCI Applications: Finding a Good Fit by Marla R.
July 17 - Welcome to our newest lawyer in our Toronto office Marie-Pier Couturier.
July 13 - Student Blog titled Litigation: Yours to Discover by Victoria M.
July 8 - Student Blog titled Hands-on Learning Approach by Cassandra K.
July 8 - Featured Case: Brentnell and Wawanesa Mutual - read Arbitrator Mongeon's decision in favour of MB's client released on June 29, 2015 - representing MB lawyer Michael Kennedy
July 6 - Blog from the Summer Students titled Five Habits of Highly Successful Law Students by Shayan K.
July 5 - Welcome to our newest lawyer in our Ottawa office Jessica Bakhos.
June
June 23 - Blog from the Summer Students titled Introducing the Personal Side by Melanie J.
June 19 - Blog from the Summer Students titled The List: The Real Work has begun by Mahdi H.
June 10 - Final Blog from Articling Students 2014 titled An Ocean's Eleven of Law Students by Ben C.
June 5 - Read the first Summer Student blog for 2015 titled Orientaton Week by Karen B.
May
May 29 - Howard Borlack is quoted in Precedent Magazine re: First-year hiring at McCague Borlack is way up.
May 28 - We are pleased to announce that Catherine Korte has been nominated in Canadian Lawyer Magazine's 6th Annual Top 25 Most Influential Lawyers. We are very proud of her achievements! You can click on this survey link (go to section 6) to vote for Catherine!
May 25 - Welcome to the new Summer Students of 2015 - Karen Bernofsky, Mahdi Hussein, Melanie Jones, Shayan Kamalie, Victoria Mitrova, and Marla Rosenblatt-Worth to our Toronto office and Cassandra Khatchikian and Tiffany Santos to our Ottawa office. Watch this space for links to their bios when complete.
May 19 - Case Summary: Carneiro et al and Regional Municipality of Durham et al and Zurich Insurance Company Ltd. lawyer Van Krkachovski, written by Peter Vlaar

May 15 - Access our 3 white paper handouts from the Sports Law Seminar: Contributory Negligence - How to Successfully Defend.
May 11 - Big welcome to our newest lawyer Annette Uetecht-Bain, and again focus is Insurance Defence.
May 7 - Big welcome to our new lawyer Miranda Serravalle who will be focused on Insurance Defence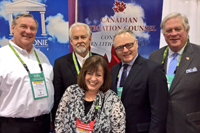 May 4 - Another featured case on Cirque du Soleil v Volvo - shows you can't file for dissolution and be immune from liability
May 1 - The Ontario Superior Court of Justice recently released the decision Jung v Cloverdale Mall Inc. where Michael Blinick successfully opposed a summary judgment motion and was awarded costs. Read Case Comment and access Case Decision
April
April 30 - New Article titled Fault Exclusions in Course of Construction Policies: Ledcor and Acciona Infrastructure posted to articles
April 29 - CLC and Harmonie were well represented at the annual RIMS conference in New Orleans April 26-29
April 22 - David Elmaleh was quoted in an article in Lawyers' Weekly titled Judge spells out gun possession law rules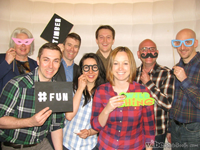 April 15 - MB was a Bronze sponsor for the 2015 WICC (women in Insurance Cancer Crusade) Ottawa Sugar Bush Breakfast which raised over $14000 for which all proceeds will go to the Canadian Cancer Society.
April 13 - Catherine Korte was quoted in an article in Lawyers' Weekly titled Ontario provincial employees lose in clash over anonymity
April 10 - New article - Third-party Litigation Funding in Canada - by Howard Borlack and Ben Carino first published in the Corporate Disputes Magazine April-June edition.
April 9 - New Article - No Man's Land - Cyberbullying and the Canadian Legal Landscape by Catherine Korte and Anthony Gatensby. First Presented at the Ontario Insurance Adjusters Association's April Seminar
April 8 - Newest Student blog Home Stretch by Divya Khurana
April 1 - New articles: Case Comment: Iannarella v. Corbett by Brittany Sherwood and Frank DelGiudice
March
March 16 - Newest student blog - A Wide Exposure to Litigation Disputes - by Garett Harper.
March 12 - Three new articles: What Landlords need to know about PIPEDA, Pets and Property Tax. Access article links here.
March 10 - Welcome to Sophia Souffront - also licensed in Michigan, and passed NY Bar!
March 3 - Welcome to MB's newest litigation lawyer Adam Plenkiewicz - who is trilingual - in our Ottawa office
March 2 - Added article Altering the Litigation Landscape: Mary Carter Agreements and Stamatopoulos et al v. Harris by Van Krkachovski and Anthony Gatensby
February
February 25 - Newest articling student blog Professional Development – Starting Early by Anthony G.
February 25 - Article on Statute and Common Law: Reconciling PHIPA and the tort of Inclusion upon Seclusion by Catherine Korte & Anthony Gatensby
February 17 - Article on Class Action Certified for Truckers' Overtime Pay: Baroch v. Canada Cartage by Rory Barnable & Anthony Gatensby
February 13 - Pics available from MB's hosted bowling night for Northbridge. See Photos
February 13 - Case Study on Electronic Custodial Care - Accident Benefits Law - Shawnoo v. Certas Direct Insurance Co by Michael Blinick & Eitan Kadouri
February 12 - Patricia Lawson is presenting in the Advocates' Society Courthouse Series in Ottawa, on Challenging Credibility. She will be doing a demonstration on how to cross-examine a sympathetic plaintiff.
February 11 - Hillel David was one of several counsel successful in the appeal by the plaintiff in Sanofi Pasteur Limited v UPS SCS, Inc. 2015 ONCA 88. The major issues on the appeal were the effect of an insurance covenant in a contract made between the plaintiff and one of the defendants (UPS) in a significant claim involving damage to vaccines stored in a temperature-controlled environment, and whether the defendants other than UPS, including Hilly's client, were entitled to take the benefit of the insurance covenant. Read full summary and link to decision.
February 9 - Read white paper Cyber and Privacy Risks - presented by Catherine Korte at OIAA Provincial Conference - includes current case studies
February 6 - Catherine Korte, is featured in Canadian Underwriter's article OIAA speaker explains how Ontario civil law on privacy affect cyber liability exposure.
February 3 - Michael Kennedy is quoted in an article titled 'Real risk' required for stay on judgement in Lawyers' Weekly page 9/10
February 2 - Newest Student Blog - Life is a Marathon - by Ben C.

February 2 - Ottawa participated in a Poker Tournament where all proceeds go to winner's choice of charity's - our Shannon Moore won! $5000 goes to Sick Kids Foundation - see Photos.
January
January 29 - Ontario Court of Appeal releases decision regarding Communications between Counsel and Expert Witnesses - read Laurie Murphy's full article with link to full decision.
January 21 - New Case Study Article written re: Bad Faith Claims and Bifurcation after Bhasin v. Hrynew: An Insurance Perspective by Rory Barnable and Alyssa Caverson - published by Toronto Law Journal

January 19 - A great time was had by those attending MB's ever popular 'Christmas in January' event. Photos are now available online in our Photo Album.
January 14 - Newest student blog In-between Files - gives an insight into firm social events by Michael V.
January 13 - Recent case law released concerning when policies must respond in actions involving rented or leased vehicles - case update by Anthony
January 9 - We are pleased to announce our newest partners in the firm -- Michael Blinick, Anita Dutt, Adam Grant and Michael Kennedy. Congratulations!

January 6 - MB is proud to be voted as Canadian Lawyer's Top 10 Insurance Defence Boutiques. "Great solicitors and the service is very good", says one fellow Bay Streeter.
January 5 - Newest articling student blog by Irina A New Year & halfway point check-in
January 5 - Welcome to our newest lawyer in the Toronto Office, Matthew Malcolm, practicing civil litigation with an emphasis on insurance defence.
December
December 17 - Collectively, all of the firms taking part in the Daily Bread Food Bank endeavour collected a total of $206,218 - MB collected $2,779 doing the Pie in the Face contest - see video.
December 16 - Newest Student blog Top 5 Articling Experiences by Sarah B.
December 6 - Newest Articling Student Blog from Anthony - Networking for new lawyers
December 1 - Newest Articling Student Blog from Josh - Entering the Workforce – A Whole New Learning Experience