Past Events
McCAGUE BORLACK
LLP
Events listed below were hosted or sponsored by McCague Borlack or by one of our affiliations: CLC or Harmonie, or an MB lawyer had an active role as Speaker or Chair in the event.

Past Events
PAST EVENTS - UPDATED APRIL 23, 2013
April 9, 2013 - MB entered a team in the Bay Street Hoops Basketball Tournament for Charity. Even though it was our first year we made it to the finals! Congrats to all on the team. This tournament is one of Toronto's largest sports charity event, it is built on a foundation of participation and community spirit. It is about having fun and supporting children and youth organizations in Toronto.
April 3, 2013 - MB's Employment Law Seminar. Here are the handouts for all the hot topics!
March 7, 2013 - Sports Liability Seminar, titled "Ski Hill Liability". See Handouts
February 25, 2013 - MB participates in ORIMS Curling Bonspiel 2013. See Photos
February 21, 2013 - 6th Annual MB / CLC Firm Ski Day, Alpine Ski Club, Collingwood, ON - see photos

February 2013 - MB participates in Ronald McDonald House Charities Ski Event helping to raise $165,000! see Photos 1 & Photos 2. See a nice 'shout out' from Cedric Gyles, Snr VP at Aon Reed Stenhouse for MB participation and he forwards McD's RMHC VP's Thank you email.
January 2013 - MB participates in FMRP's Curling Bonspiel. See photos
January 15, 2013 - McCague Borlack's Christmas in January, Toronto, ON - see
photos
November 26, 2012 - Marine Law Seminar, Titled "Weathering the Storm: Navigating Recent and Expected Developments". One white paper available "Introduction to cargo theft."
October 18, 2012 - MB's Transportation Law Seminar, Topics & Schedule - this was the handout
October 11, 2012 - McCague Borlack's Opening Gala for our new Ottawa office was a great success! See Thank You
Oct 4 - MB held an Environmental Law Seminar: Oil Leak Claims Part II - see white paper Litigating Oil Leak Claims: Trucking and Marine Accidents: Oils Spills and Liability for Environmental Remediation.
September 27, 2012 - MB's Sports Liability 1/2 day conference for "Sports & Entertainment Facility Management" took place. See White Paper.
September 20, 2012 - Product Liability section held at McCague Borlack, Toronto, ON - White papers available.
August 12 - 14, 2012 - Mark Mason spoke at the Canadian Bar Association conference, Insurance Law Section, Vancouver, BC on "Carriage and Control of Litigation in Subrogated Actions: Zurich Insurance v. Ison T.H. Auto Sales Inc." White paper available.
July 7, 2012 - Once again, MB entered a team in the SickKids Volleyball Charity Event at Ashbridges Bay to help raise funds for the hospital. WTG team!
June 20, 2012 - The Environmental Law Educational Seminar "Oil Leak Claims - Part 1: Remediation" was held at the McCague Borlack Learning Centre, Toronto, ON. Special guests included Raphael Sumabat, Engineering Specialist with the Fuels Safety Program at TSSA and Gary Zikovitz, a representative from the Ministry of the Environment. Handouts are available. NOTE: Part 2 is scheduled for October 4th, to RSVP contact Nicole Ridout nridout@mccagueborlack.com.
June 13, 2012 - The 14th Annual McCague Borlack/CLC Golf Tournament took place at Bond Head, ON - See Photos
May 16, 2012 - Missed the Transportation Law Seminar & Mock Trial? Here is the Mock Trial hand-out and the Photo Album for the case scenario including conclusion and bios of all participants and special guests: Gord Kirke of Global Resolutions as "The Judge" and Russell Brownlee of Giffen Koerth as engineering expert "Thomas Edge". The mock trial focused on a single car motor vehicle accident causing injuries, with the inclusion of a tavern liability element. The trial also investigated the design and the condition of the subject roadway, and to what duties/obligations the municipalities' owed to the driver.
April 2012 - Missed the Sports Liability Seminar held at MB in March? Here are the two articles published from it. Product Liability Claims in Sports & Concussions and Injuries in Canadian and American Contact Sports: A Legal Perspective.
February 23, 2012 was MB's 5th Annual Ski Day at Alpine Ski Club, Collingwood, ON - Visit our Photo Gallery to see event pictures.

November 10, 2011 - Accident Benefits & Transportation Law Seminar, McCague Borlack Learning Centre, Toronto, ON. If you missed the seminar, papers are available.
---
November 6 to 7, 2011, National Association of Subrogation Professionals (NASP) Conference, Gaylord Palms, Orlando, FL - Mark Mason and Joseph Longo
---
October 27, 2011 - Effective Claims Management: Tips from the Insiders Seminar, McCague Borlack Learning Centre, Toronto, ON, papers are available
---

October 6, 2011 - Sports, Recreation and Resort Liability Seminar & Mock Trial, McCague Borlack Learning Centre, Toronto, ON - The mock trial was a sports injury case which also involved an occupier's liability component, a waiver/release, medical narrative, qualifying an expert and the duty to supervise/train employees. Not only did this provide attendees with an overview of trial procedure and case presentation, but attendees also had the opportunity to participate in the presentation by volunteering to be a member of the 6 person jury. See the photos on MB's Facebook page.
---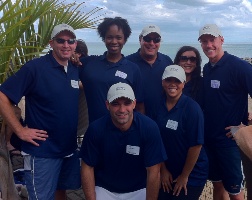 August 25, 2011, MB supported the Granite Claims Solutions' annual Beach Volleyball Tournament at the Balmy Beach Club. Proceeds of the event were donated to WICC (Women in Insurance Cancer Crusade). We may not have won the tourney, but we played with heart! Go Team!
---
June 30th, 2011, MB clients and lawyers joined together for the 13th Annual McCague Borlack Golf Day at the Bond Head Golf Club, in Bond Head, ON – see photo gallery.
---
June 28, 2011 - National Association of Subrogation Professionals (NASP) held a conference in the McCague Borlack Learning Centre, Toronto, ON
---
June 21 to 22, 2011 - Paul McCague chaired a panel discussion at The Canadian Institute's 10th Annual Forum on Effectively Managing Insurance Claims and Litigation. A top-notch group of speakers from both the insurance industry and top law firms provided diverse perspectives, cutting-edge strategies and proven processes for mitigating risks. Panel members included Howard Borlack, Anthony Cole, Lorne Honickman and Mark Mason.
---
June 7, 2011, McCague Borlack LLP hosted a Marine Law Seminar which was held in our own Learning Centre. Our Lawyers Rory Barnable, Stephen Barbier and Simon Barker presented along with John Hosty from Cunningham Lindsey. See topics or download handouts.
---
June 1, 2011 - Transportation, Construction & Product Liability Seminars, Hilton Garden Inn and Hilton Suites, Oakbrook Terrace, IL, being hosted by The Harmonie Group and Canadian Litigation Counsel. Mark Mason, a chair of our Product Liability practice area, presented a paper entitled Product Liability, Jurisdictional Issues in Canada.
---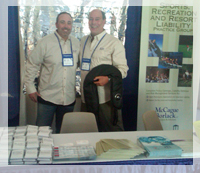 May 4 to 7th, 2011 - Grant Gold and Alan Drimer, members of our Sports, Recreation and Resort Liability Practice Area, attended the National Ski Areas Association Conference in Carlsbad, California . The conference included representatives of every major ski area in North America, and some from Europe. McCague Borlack LLP is the only Canadian Law firm to be a member of NSAA.
---
March 3, 2011 - Our Sports, Recreation, and Resort Liability Group hosted a Seminar entitled Sports, Recreation, and Resort Liability. We thank our clients for attending. Please contact Jim Tomlinson should you desire a copy of the printed materials from the seminar.
---
4th Annual MB Ski Day 2011 - The Fourth Annual McCague Borlack Ski Day took place on February 17th at the Alpine Ski Club in Collingwood, ON, go to Photo Album
---
McCague Borlack participated once again in the RMHC Ski Challenge at Mont Tremblant, Quebec, helping to raise over $130,000 for Ronald McDonald House Charities across Canada. This year the firm entered both a women's and a men's team consisting of 4 lawyers and 4 clients. Ronald McDonald House Charities of Canada raises funds for children bravely battling cancer, and their families, who stay at a Ronald McDonald House during the course of their treatment . We are proud to be both sponsors and supporters of this important cause. Go to Photo Album
---
Congratulations to Robert Lee who ran Athens Classic Marathon in Athens, Greece on October 31, 2010. The marathon was the 2500th anniversary of the Battle of Marathon. Way to go Robert!
---
Run for the Cure - October 3, 2010 - McCague Borlack had ten representatives who participated in the record setting Run for the Cure event in downtown Toronto yesterday morning. Approximately 20,000 people took part in the event which is the largest one day fundraiser in Canada. The reports show that over $33 million dollars was raised across the country of which $1,760 was raised by our participants!
---
JDRF Ride for Diabetes Research - October 1, 2010 - McCague Borlack LLP had ten JDRF Riders representing the firm and participating in today's JDRF Ride for Diabetes Research at the Toronto Metro Convention Centre. The event in total raised over two million dollars of which our participants raised over $1,000! Go to Photo Album
---
Rogers Cup - August 11, 2010 - The Rexall Centre at York University was an exciting place to be as the men battled for the 2010 Rogers Cup. Lawyers, students and clients alike watched and enjoyed the action as Rafael Nadal opened his summer hardcourt campaign and rose to victory as he faced a no-quit Wawrinka from Switzerland. Go to Photo Album
---
Look Good Feel Better Stilletto Sprint - September 17, 2010 - Congratulations to Cherise Devers, an assistant at MB, who came in third in the Stilletto Sprint - a 100 meter race in 3" heels. This charity event benefited the organization Look Good Feel Better - helping women with cancer. Go to Photo Album
---
Heatwave and SickKids Foundation Beach Volleyball Charity Event - July 10, 2010 - A number of firm members participated in the above charity event at Ashbridge's Bay on behalf of McCague Borlack. The sun was strong, the sand was hot, the competition was fierce, but we had a fantastic time!
---
12th Annual McCague Borlack LLP Golf Tournament - June 30th, 2010 - More than 165 insurance professionals participated in the 12th Annual McCague Borlack LLP Golf Tournament on June 30th, 2010. The tournament took place at the prestigious Club at Bond Head, in Bond Head Ontario. Attendees supported the DareArts Foundation for Children, a Canadian not-for-profit organization that uses arts education to empower children to become leaders. Raffle tickets were purchased for merchandize that was kindly donated by Rochon Engineering, GARDA, Canadian Litigation Counsel, National IME Centres, McCague Borlack LLP and Ironshore Insurance Company. Go to Photo Album