On a Personal Note...
NEWS LAST UPDATED MAY 2018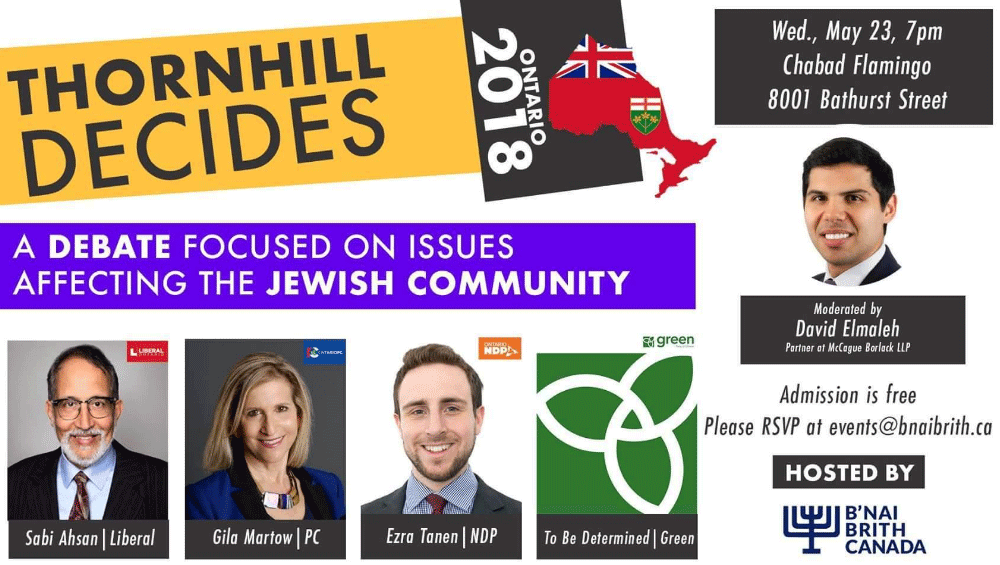 MB's David Elmaleh will be moderating a political debate on May 23 at 7pm between the provincial candidates from the riding of Thornhill.
---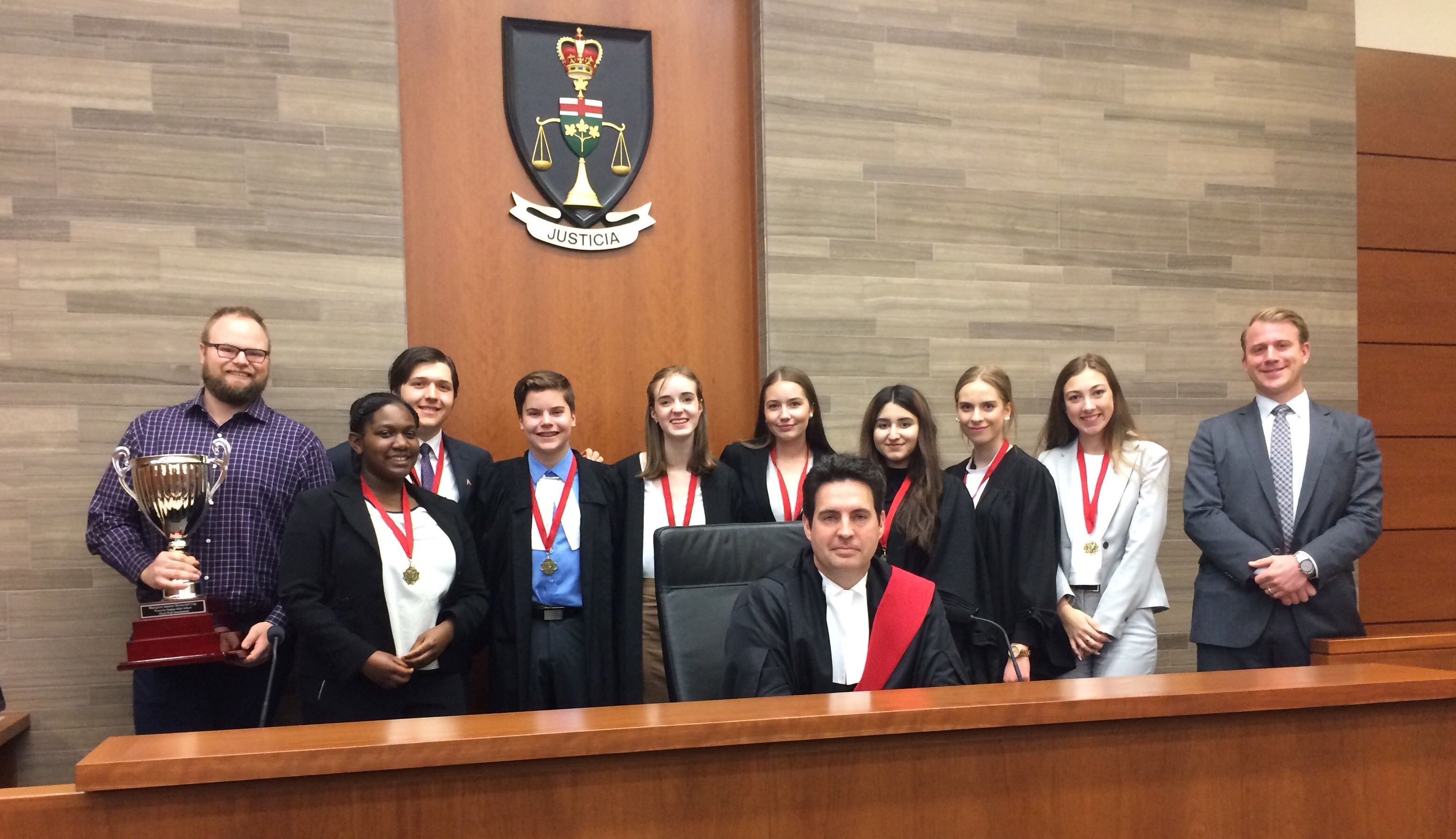 The next generation ("TNG" ) of "Suits" gussied up in Court robes to compete for the Kitchener/Waterloo branch of the Ontario Justice Education Network's "2018 Waterloo Region High School Mock Trial Tournament".
McCague Borlack lawyer, Brian Murphy, took on the role of judge in the preliminary rounds, along with his lawyer colleagues from the Kitchener Waterloo area. The final round involved Secondary School students in the roles of lawyers for the defence and prosecution(crown) in the trial of a Mr. Rogers, who had been charged with Manslaughter! The case was heard by a real Judge. Taking home the "Margaret Janzen Memorial Cup" was Galt Collegiate Institute.
---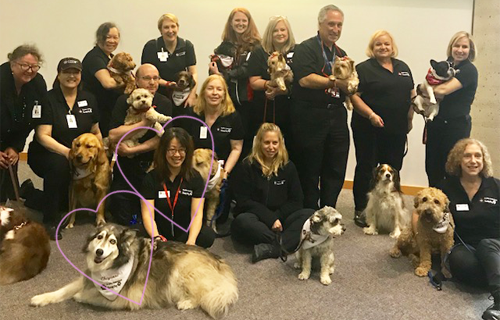 On April, 25, the St Johns Ambulance team asked MB's Sandy Mark Lee and her amazing companion Cheyenne to attend an event at 4900 Yonge Street to assist the people that were traumatized by the events this past Monday. Sandy, Cheyenne, and friends were there providing comfort to so many. WTG!
---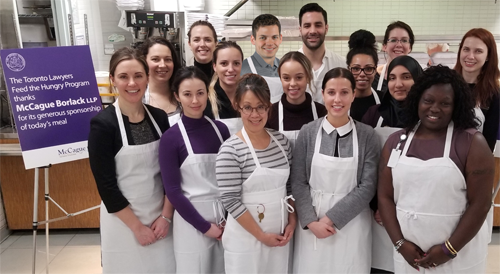 In February, MB sponsored a dinner for the Toronto Lawyers Feed The Hungry program. As well 15 firm members volunteered their time to serve a hot meal to those less fortunate.
---
AUGUST 2017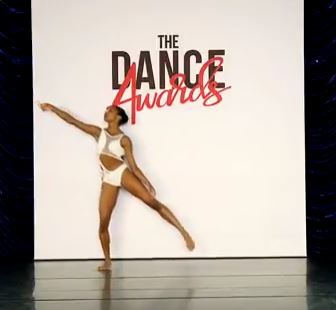 MB's Georgina Robinson's daughter Kelis' 1st Place Runner Up performance "Snowing" performed at the Dance Awards in July 2017. See video.
---

APRIL 2017
Each office participated in an Easter Egg hunt. The winner with the most eggs, wins a prize! See some pics of same...
---
DECEMBER 2016
Ottawa held their annual gingerbread house competition. Voting was done by the whole firm and the winner was No. 2, who got all of the leftover candy they could stuff in their pockets! See Photo album for pics.
---
SEPTEMBER 2016
Shout-Out to MB's Kelly Bain (Toronto) and Rebecca Parker (Ottawa) - our newest paralegals who passed this month!
---

AUGUST 2016
Congratulations to MB's Ingrid Schurr and her Dragon Boat Team on taking silver at the Canadian Championships!
---
DECEMBER 2015
CONGRATULATIONS to everyone at MB for a great Fundraising Challenge—together all firms raised over $185,000 for the Daily Bread Food Bank! MB raised $1,642. WTG Students for leading a successful campaign!
---

Ottawa held their annual gingerbread house competition. Voting was done by the whole firm and the winner was No. 2, who got all of the leftover candy they could stuff in their pockets! See Photo album for pics.
---

Congrats to Kelis (daughter of MB's Georgina Robinson) along with her teammates who competed in Germany for a World's Dance Competition and brought home a silver medal in the Small Group and the bronze in their Formation. Way to go!
---
NOVEMBER 2015
It is with deep regret that we announce the death of our dear colleague Carmen Belcredi who passed away on November 26th. She will be fondly remembered as a fine lawyer and more importantly as a great friend to all that worked with her. Our prayers and heartfelt condolences go out to her family. Funeral details are available on Carmen's Obituary.
---
Every year, articling students at Toronto law firms organize a competitive holiday food and donation drive on behalf of Toronto's legal community, with all proceeds going to Daily Bread Food Bank. This challenge has raised over $2 million over the years. Last year our firm was successful in raising over $2,700! They look forward to our support this year! Watch this space for some fun event pictures! Donations can be made in cash, or online here. Plus the students are accepting food donations.
---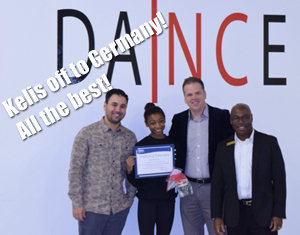 Mark Holland, Ajax's Liberal elected MP and Renrick Ashby, Ward 2 Councillor, attending Dance Inc to present Kelis Robinson (MB's Georgina Robinson's daughter) with a Certificate of Achievement and Canadian flags as she travels to Germany to represent Team Canada in the Show Dance Competition! WOW yes we are proud! Good luck Kelis!
---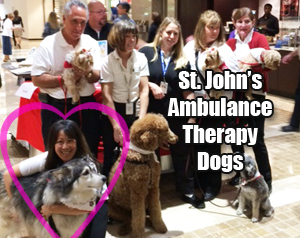 Everyone's favorite therapy dog, Cheyenne and her handler MB's own Sandy Mark-Lee was at the St. John Ambulance Therapy Dog Fall Awareness day @ the Exchange Tower!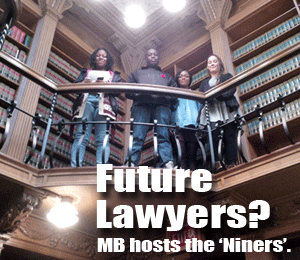 ---
Thanks to Kathryn Stroscher, HR Manager, who led another successful "Take your kids to work" day!
---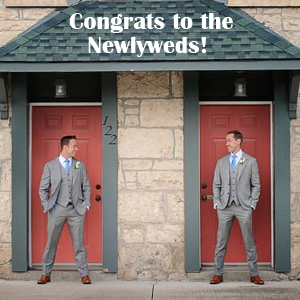 SEPTEMBER 2015
Congratulations to Patrick and Michael (A Partner at MB) who were married this week end in their own backyard in Guelph. All our best wishes!
---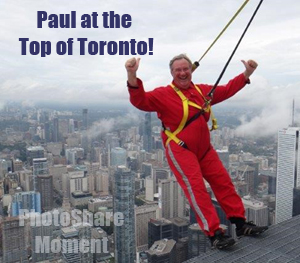 AUGUST 2015
MB's Founding Partner Paul McCague is on the Top of Toronto!