Max Gill
Articling Student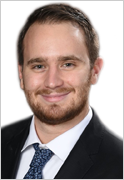 University of Windsor
Profile:
Max completed the Dual JD Program at the University of Windsor and the University of Detroit Mercy. During law school, Max was on the Dean's list, a member of the Windsor Review of Legal and Social Issues, the Property Law Tutorial Assistant, a law clerk for two State judges, and one of the associate heads of Detroit Mercy's Moot Court Council. Max was also inducted into the Frank Murphy Honor Society and the Order of the Barristers for outstanding academic achievements and contributing significantly during law school.

Before attending law school, Max graduated on the Dean's List from the International Relations program at Western University and taught English in Granda, Spain, as an Auxiliar.

During his law school tenure, Max competed in more than eight moots and participated in several more as a coach, judge, or bailiff. He most recently competed in the Philip C. Jessup International Law Moot Court Competition, where his oral advocacy skills ranked him 18th across Canada. These experiences sparked an interest in oral advocacy, leading to a desire to work as a litigator. This was solidified during his work with the Veterans Law Clinic, where he assisted in oral and written advocacy for Veterans pursuing their rightfully earned benefits.

Outside of work, Max enjoys reading and writing on a nice patio, preferably with a good espresso and some olives.