Legal Excellence
McCAGUE BORLACK
LLP
"It is always gratifying to know that our excellent legal service to our clients is being recognized in the global business community."
Paul McCague, Founding Partner
Global Recognition
YOUR GLOBAL ACCESS TO LEGAL EXCELLENCE
The fundamental principles and core values established by the McCague Borlack LLP partners when the firm was founded in 1994 have all been stringently followed at every stage of the firm's development. This strategy has led to our firm achieving unparalleled success in the industry.
Today, we are the largest firm in Canadian history providing alternative dispute resolution, litigation and risk management services to the insurance industry. Our clientele includes the majority of the Canadian multi-line insurers, most of the smaller niche insurers, many of the brokers, independent adjusters, third party administrators, and Insureds under their self-insured retentions in the Canadian, American, London, European and Far Eastern insurance market places.
This success has not been accidental or coincidental – far from it. It is trite to say that it would never have happened without McCague Borlack LLP consistently meeting and indeed exceeding our client's needs and expectations.
As a result, McCague Borlack LLP has frequently been described as an innovative law firm at the leading edge of its profession on a multitude of fronts. By far the most significant of our achievements is the high degree of integrity and professionalism of our lawyers. These factors have also given our firm a reputation for excellence in providing customer service throughout the Industry. It is therefore not surprising that the Industry has acknowledged our leadership by bestowing recognition on our firm in a number of significant forums. Examples include the following:
2024 - Once again Howard Borlack and Van Krkachovski have been recognized in the Lexpert Canadian Legal Directory for 2024 in the areas of Construction & Infrastructure (HB) and Personal Injury (VK).
2022 & 2023 - Congrats to our partners, Howard Borlack and Van Krkachovski, who have been recognized once again in the Canadian Legal Lexpert Directory for their work in the practice areas of (HB) Construction and Infrastructure Law, and (VK) Personal Injury and Commercial Insurance.
---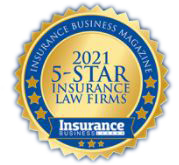 November 2021 - Insurance Business Canada surveyed insurance companies to find out which lawyers and law firms are setting the standard in the Canadian market. Our firm and Howard Borlack individually made the 5-Star list! Congrats and kudos to all firm members for this recognition!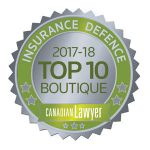 ---
January 2017 - Once again MB is proud to be recognized for the fourth time in Canadian Lawyer's Top 10 list for Insurance Defence! With one voter saying "Exceptional client service, creativity and cutting-edge technology,"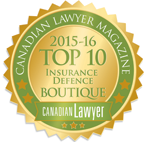 ---
January 2015 - MB is proud to be recognized for the third time in Canadian Lawyer's Top 10 List for Insurance defence. "Great solicitors and the service is very good", says one fellow Bay Streeter.
---

June 2014 - Howard Borlack was (repeatedly) recognized in the 2014 Canadian Legal Lexpert Directory in the area of Construction Law.
---
December 2013 - Acquisition International announces McCague Borlack LLP a winner of the Canadian Mass Tort Law Firm of the Year! The Acquisition International Legal Awards are now in their third year and have rapidly become a go-to resource for professionals within the legal and financial services communities in recognizing the leading players practicing in their field and jurisdiction.
---

August 2013 - This year two lawyers from McCague Borlack LLP have been selected by their peers for inclusion in *The Best Lawyers 2014.
---

January 2013 - McCague Borlack LLP is proud to have made the Canadian Lawyer's Top 10 insurance defence boutiques list again for the 2nd time in a row! CL runs a short online survey and from there drew on the experience of in-house counsel and large-firm lawyers who refer work to these boutiques, conducting a series of confidential interviews to identify the cream of the crop. That input was used to compile the following results, listed in alphabetical order. Read the full article.
---

August 2012 - This year's lawyers from McCague Borlack LLP were selected by their peers for inclusion in *The Best Lawyers 2013.
---
February 2012 - Reactions' Global Legal Survey identifies the law firms "doing the best job" for their clients. Reactions conducted an extensive online worldwide poll of its readership. More than one hundred and seventy respondents were asked questions about their level of satisfaction with their primary law firms. Not surprisingly, clients indicated that the qualities that they most valued in their law firms are client service, reliability and communication, understanding of the industry, successful track record, long-standing relationships, costs/billings processes, speed of instruction and offices in multiple jurisdictions. In Canada, in the only two categories in which our firm competed, McCague Borlack LLP ranked first in Litigation-Dispute Management and second in Over All Client Satisfaction.
These results are a significant achievement because replies came from insurers, reinsurers and brokers from around the globe and more than one hundred law firms received nominations.
See report (page 29)
.
---

September 2011 - This year's lawyer from McCague Borlack LLP was selected by his peers for inclusion in *The Best Lawyers International® 2012.
---
April 2011 - Canadian Lawyer Magazine listed MB as a top-five insurance defence boutique in the article "A cut above".
---

April 2011 - Global Chambers, the legal directory that ranks the World's Leading Lawyers, listed McCague Borlack LLP in the area of Dispute Resolution (Litigation & Class Actions) for 2011. Also noted are our abilities in Construction and Insolvency areas.
*Copyright 2011 by Woodward/White, Inc., of Aiken, S.C.