Rebecca Morisson
Summer Student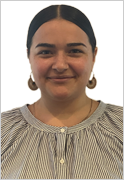 University of Windsor
Profile:
Rebecca is a candidate in the concurrent Juris Doctor and Master's of Social Work program at the University of Windsor, where she is an active volunteer with Pro Bono Students Canada, Justice at Work, and the Women's Law Society.

Rebecca recently completed her appointment term as the Director of the Student Misconduct Defence Office with the university's student union and has worked closely with lawyers and professors within the law school as a Faculty Funds Development Assistant and Legal Research Assistant.

Rebecca earned her Honours Bachelor of Arts in Global Studies from Glendon College of York University in Toronto, and a Master's certificate in climate change from Laval University in Quebec with a focus on human development and sustainable economics. As an undergraduate student, Rebecca pursued the majority of her courses in French and Spanish and achieved the university's certificate of trilingual excellence.

Rebecca's interests include winemaking, gardening, and her two pit bulls, Pepper and Puddles.