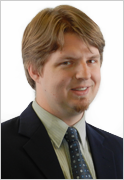 A Focus on Insurance and Business Litigation
Profile:
Adam has acted on a range of civil motions, trials, appeals, and mediations for a broad range of clients involving many aspects of business and insurance litigation, including construction liens, corporate oppression, and breach of trust. His practice at McCague Borlack is primarily focused on subrogation matters involving all types of losses, including fires, floods, theft, negligent construction, and product and equipment defects. He has spent his entire legal career focused on plaintiff-side litigation.

Prior to starting with McCague Borlack LLP in 2012, Adam worked at a boutique litigation firm in Toronto, where he gained substantial experience appearing before the Ontario Superior Court of Justice, as well as various administrative tribunals in Ontario. Adam is focused on providing clients with sound and reasoned advice and effective advocacy.

Working towards a personal goal, Adam is learning American Sign Language and when in need of some downtime, his interests vary greatly from catching up with the latest vid-games to reading up on 19th-century social theory.