Chanpreet Shokar
Articling Student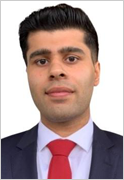 Osgoode Hall
Profile:
Chanpreet completed his JD at Osgoode Hall Law School. Prior to attending law school, Chanpreet graduated from the University of Waterloo on the Dean's Honours List, where he obtained a Bachelor of Science (Honours) in Health Studies.

Chanpreet's interest in litigation and advocacy developed during his time as a Caseworker at Community Legal Services Clinic, where he represented clients on a variety of issues, including small claims court matters, family and criminal law matters, and landlord/tenant disputes. Chanpreet followed his interest in advocacy by competing in several moots and completing an 8-week summer program in litigation. While in law school, Chanpreet worked as a Caseworker at Community & Legal Aid Services Program. In addition, Chanpreet worked as a Contributor on TheCourt.ca, an award-winning legal blog that publishes commentary on the latest Supreme Court of Canada decisions.

In his free time, Chanpreet enjoys hiking, reading, playing sports, and cheering for the Leafs.