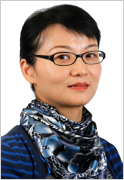 A Focus on Motor Vehicle Accident Benefits
Profile:
Cynthia joined McCague Borlack in 2013 bringing with her 6 years of experience working in the areas of Accident Benefits (AB) and Motor Vehicle Tort. Prior to MB, Cynthia worked at a plaintiff personal injury firm in Toronto which gives her the added advantage of understanding how the other side operates.

In 2007, Cynthia obtained her Law Clerk's diploma at Centennial College and graduated with Honours. Cynthia is well-versed in working with files at the Financial Services Commissions of Ontario (FSCO). She is very proactive and bright, and has shown the ability to take in large volumes of information.

Having been born in China, Cynthia's language skills include a fluency in Mandarin. In her spare time, she enjoys traveling and spending time with her family.