Dennis Molnar
Associate Lawyer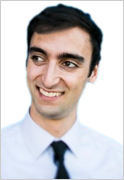 A Focus on Family Law, Estates Law, and Civil Litigation
Profile:
Dennis' practice includes Family Law and Civil Litigation with a focus on custody/access litigation, support and property litigation, property law/property disputes, estates litigation, and personal injury. Dennis has appeared before the Ontario Small Claims Court, Ontario Superior Court of Justice, Ontario Superior Court of Justice - Family Court, and Ontario Court of Justice.

Cognizant of the many pressures one faces when engaged in litigation, clients appreciate Dennis' succinct legal advice and strong problem-solving skills. As well, his calm demeanour and emotional support, help clients to successfully navigate even the most difficult circumstances.

Dennis was born in the City of Ottawa and raised both in Ottawa and Peterborough, Ontario. Since his call to the bar in 2014, Dennis has been practicing law in Ottawa's downtown district. Dennis also spent time living and working in Germany and, therefore, along with English, he can also communicate in German and French.

When not in the office, Dennis is an avid soccer player and fan and volunteers with the Planned Giving Advisory Committee for Cornerstone Housing for Women. Since the year 2007, Dennis has also been involved in community radio with CKCU 93.1 FM, first having produced and hosted the music program "Fundamentally Sound"; he is now co-hosting and co-producing the music program "The Style Wars Show".