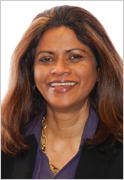 A Focus on Civil Litigation and Accident Benefits
Profile:
Flavia joined McCague Borlack as a Senior Law Clerk in 2010. She brings with her a wealth of knowledge and expertise particularly in complex and catastrophic cases. Her experience is in the areas of personal injury, motor vehicle claims, accident benefits, occupiers' liability, property loss, product liability, medical malpractice, assault and sexual abuse cases, and professional malpractice.

Prior to joining McCague Borlack, Flavia worked as a Senior Law Clerk for another major Toronto litigation firm for 22 years. Flavia is well versed in the Rules of Civil Procedure and the Statutory Accident Benefits Schedule. She has assisted with and attended at mediations both in tort cases and at the Financial Services Commission of Ontario, pre-trials and trials.

In 1998, Flavia obtained her Law Clerk's diploma (ILCO) graduating with Honours at Seneca College. She has attended a number of Continuing Legal Education courses offered by The Law Society of Upper Canada and the Canadian Defence Lawyers organization.

History and cultures are Flavia's personal passions so her long-term goal is to travel to as many places as possible. Her count equals 19 countries visited, so only 177 to go!