Jennifer Beresford
Associate Lawyer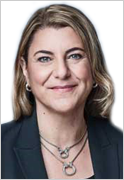 A Focus on Insurance Defence and Insurance Coverage
Profile:
Jennifer's expertise lies in both the defence of insurance claims and in the area of insurance coverage. She defends first party claims against insurers arising from both property damage and claims under the Statutory Accident Benefits Schedule. She defends third party claims against insurers and their clients, arising from all types of accidents and incidents. Her expertise in coverage encompasses issues arising under various types of policies, including auto, CGL, and construction-related policies.

Jennifer has appeared before the Ontario Superior Court of Justice, the Ontario Court of Appeal, the LAT, FSCO, and numerous private arbitrators. As much as she loves presenting a persuasive argument on behalf of her clients, Jennifer is keenly aware that there is always risk in the courtroom. She apprises each client of new developments promptly, to ensure they have all necessary information so they can jointly develop the appropriate strategy for the matter. In all cases, Jennifer's goal is to achieve the best possible outcome for each client, within the framework of their philosophy. Jennifer remains focused on her client's needs, adapting her approach accordingly. Jennifer's practice remains focused on her client's needs at all times.

Outside of her legal practice, Jennifer enjoys the company of her teenage son, hiking, yoga, board games, cooking, and (slowly) getting back into running.