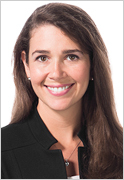 A Focus on Insurance Litigation and Risk Management
Profile:
Jessica practices civil litigation with a focus on property and casualty claims, product liability, professional negligence/errors and omissions, and subrogated property loss claims.

Jessica joined McCague Borlack in 2018 as a partner. Jessica is dedicated to serving her clients' best interests and brings a practical and no-nonsense approach to the law, focusing on efficient and cost-effective solutions to complex legal issues. Clients rely on Jessica to carefully review a matter and provide timely advice and a risk management plan. Besides being a persuasive advocate before the Ontario Superior Court of Justice, Jessica achieves excellent results for her clients at mediations and settlement conferences. She welcomes the opportunity to deal with conflicts head-on and in a productive manner.