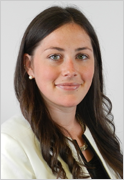 A Focus on Insurance Defence
Profile:
Marla Kuperhause (nee Rosenblatt-Worth) practices civil litigation and specializes in insurance defence, employment law and subrogation.

She handles claims pertaining to personal injuries, occupier's liability, property loss, municipal liability, human rights, defamation, professional liability, condominium law and contractual disputes. She regularly represents insurers, employers, employees and professional clients.

Marla has conducted countless examinations, mediations and pre-trials and has appeared before the Small Claims Court, Superior Court of Ontario, Human Rights Tribunal, Ontario Motor Vehicle Industry Council and various administrative boards. She has extensive trial experience, and was successful as second chair in her first month-long trial in the Superior Court. (See Sankreacha in Featured Cases below.)

Marla is a pragmatic advocate and an avid problem-solver. She uses her analytical skills and attention to detail to resolve complex legal disputes in a timely and cost-effective manner.

Marla first joined the firm in 2015 as a summer student and continued on as an articling student, associate, and now partner.

Outside of the office, Marla loves adventure; she has hiked through the Rockies, backpacked through Europe and New Zealand, and paddled in many of Ontario's provincial parks.