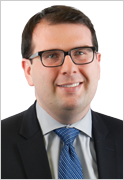 A Focus on Tort and Accident Benefits Claims
Profile:
Matthew joined McCague Borlack in 2013.

His practice focuses on acting on behalf of insurers in the defence of personal injury tort and accident benefits claims. He also practices in a variety of other insurance related matters, including trucking claims, occupier's liability matters, coverage disputes, employment and property damage claims. He has extensive experience in automotive claims, including complex matters and fraud. Matthew has also represented and advised clients in the health care, high-tech and innovation industries, including intellectual property matters.

Matthew has practiced civil litigation his entire career and represented clients in matters before FSCO, Ontario Superior Court, the Ontario Court of Appeal and the Federal Court.

Matthew plays baseball and hockey recreationally, and is a dedicated sports fan.