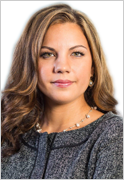 A Focus on Insurance Law in Quebec and Ontario
Profile:
(Cliquez [more...] ci-dessous pour le français.)

Nancy joins MB as a partner and brings along her unique experience as a specialized insurance lawyer from Quebec and Ontario. As a passionate litigator, Nancy has appeared before both provincial and federal courts. Her practice includes Accident Benefits, Commercial Litigation, General Liability, Professional liability, Manufacturer's and Products liability, Insurance Defence and Subrogation as well as complex insurance coverage matters.

During her practice, she has worked with international sophisticated clients and has opined on complex coverage issues involving multimillion-dollar cases and class actions. Nancy has also obtained experience analyzing financial lines insurance claims, such as Cyber security risks and Directors' and Officers' liability, all of which appear to have significantly increased with the arrival of the pandemic.

Driven by her desire to build and maintain excellent relationships with her clients, Nancy works relentlessly to provide them with practical solutions, and sound legal advice to resolve their legal disputes and meet their business objectives, regardless of the complexity of the file.

During her law studies, Nancy worked with both the Minister of Justice and the Minister of Immigration of Quebec.

Nancy is licensed to practice law in both Quebec and Ontario, and she is bilingual.