Nicholas Therens
Articling Student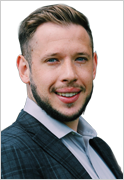 University of Ottawa
Profile:
Nick completed his Juris Doctor at the University of Ottawa. Prior to attending law school, Nick completed his Bachelor of Arts Honours in Criminology and Criminal Justice with a Concentration in Law at Carleton University. He graduated at the top of his class with High Distinction, receiving the Senate Award for Outstanding Academic Achievement due to his comprehensive legal research and writing abilities.

Nick's interest in litigation developed while working for various criminal defence firms in the Ottawa area. He assisted clients with both simple and complex legal issues and often appeared for them in the Ontario Court of Justice. While in law school, Nick gave back to his community by volunteering with StreetSmart. There, he created an informative legal workshop to advise marginalized youth about the legal system and to encourage them to advocate for themselves.

In his free time, Nick enjoys playing soccer, golfing with plenty of mulligans, and spending time with family, friends and his active golden retriever, Callie.