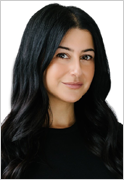 A Focus on Civil Litigation and Insurance Defence
Profile:
Samantha's practice is devoted to handling complex civil litigation matters with a focus on the prosecution of subrogated actions on behalf of both insurance companies and their insureds. In addition to her subrogation practice, Samantha has a general litigation practice devoted to employment law, real estate and construction disputes, professional negligence claims, and appeals of court judgments.

Over the past decade, Samantha has prosecuted claims involving all types of losses including, product liability failures and defects, fires and explosions, electrical failures, chemical spills and gas leaks, oil spill claims, agricultural machinery claims, roofing failures, water damage losses, and natural catastrophes including wildfires, windstorms, and floods.

Samantha is also actively engaged in volunteer opportunities that give back to the community. In addition to volunteering at various food banks and elementary schools, she has served as both Chair and Vice-Chair of the Ontario Bar Association and the Canadian Bar Association's Small Firm and General Practice Section.

Outside of the office, Samantha enjoys staying physically active by participating in a wide range of competitive sports including hockey, squash and long-distance running.