Sandra White
Associate Lawyer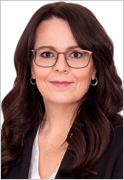 A Focus on Insurance, Family and Employment Law
Profile:
Sandra joins MB as an Associate after articling with the firm. Sandra practices a wide range of civil litigation, including professional negligence, personal injury defence, subrogation, employment law, and family law.

While in law school. Sandra competed in and won the Rick Weiler Mediation Competition. In her second year, Sandra chaired the Employment and Labour Law Student Society, taught high schoolers about discrimination and harassment through the Women's Legal Education and Action Fund, and mentored other students through the Women's Legal Mentorship Program.

Before transitioning to law and moving to Ottawa, Sandra held senior executive positions with companies like Cineplex and Rogers (The Shopping Channel). She built online and television marketing campaigns and programs to drive client sales. Her attention to detail, advocacy, and resourcefulness were developed during her career.

In Sandra's spare time, she is often found in the kitchen attempting to bake delicious treats for anyone brave enough to try them. Failing any takers, Sandra's dog is happy to oblige.