Siobhan McClelland
Partner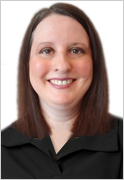 A Focus on Insurance Defence Litigation
Profile:
Siobhan is a civil litigator with more than 15 years of experience handling complex tort matters in Insurance Defence Litigation, including personal injury, motor vehicle liability, occupiers' liability, and professional negligence. She has handled all aspects of tort files while maintaining a problem-solving, proactive approach.

While she is a skilled negotiator and engages in settlement discussions when it's appropriate, she doesn't shy away from courts or tribunals, whether it's obtaining a declaration that an Applicant is a vexatious litigant in a human rights matter or acting as lead counsel in a jury trial on a personal injury claim.

An active leader, mentor, and volunteer to colleagues and clients, Siobhan is always happy to strategize with others. Her priority on providing exceptional client service to insurers and insureds includes ensuring she responds quickly to client inquiries.

Outside of work, Siobhan is a world traveller; places checked off her bucket list so far are New Zealand, Vietnam, Jordan, South Africa, and Peru. She is also a dedicated Toronto Blue Jays fan and a proud pet parent to her French bulldog, Bichette.