Sophie Paradis
Associate Lawyer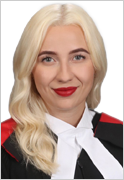 Looking for New Challenges
Profile:
Sophie Paradis is an adept legal professional with a general civil and commercial litigation practice. Before articling at a full-service law firm in Ottawa, Sophie interned at a personal injury boutique and immigration law firm. Armed with a diverse legal background, Sophie has cultivated a wealth of litigation experience, successfully representing clients in both Small Claims Court and the Superior Court.

What sets Sophie apart is her unique ability to leverage her psychology and sports background into her legal practice. Sophie's ability to understand the motivations and needs of individuals deepens her empathy and effectiveness in legal matters. Further, her competitive spirit propels her to advocate vigorously for her clients. Sophie is known for offering pragmatic and client-centric solutions, prioritizing her clients' needs and goals.

Outside of the office, Sophie engages in various sports, with soccer being her top choice. She also loves spending time at the cottage and reconnecting with nature.