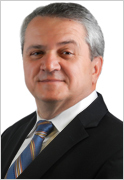 A Focus on Insurance Defence Litigation
Profile:
Van joined the firm as a partner in 1998, after having been a partner at another major Toronto litigation firm.

Van's practice involves personal injury, motor vehicle claims, trucking and cargo losses, accident benefits, occupiers' liability, municipal liability, property loss, insurance contract claims, environmental claims, products liability, assault, sexual abuse, and malicious prosecution. He is an experienced trial counsel, having appeared at all levels of the Ontario court system.



Van is recognized as a LEXPERT Canadian Leading lawyer in the areas of personal injury and commercial insurance.

In addition to his practice, Van has also taken up the position of Mediator. As a litigator who has acted for both plaintiffs and defendants, Van brings to the table as mediator, the ability to engage with lawyers and clients alike, the ability to listen and respond with a balanced point of view, and a fairness to the process for all individuals involved. Van believes an effective mediator is essential in maximizing the likelihood of success given the cost of litigation and delay in getting to a pre-trial let alone a trial. Van is taking this opportunity to gather his experience from years of practice and applying them to help resolve disputes in a timely, responsive and gratifying way.