Petra Sbeiti
Associate Lawyer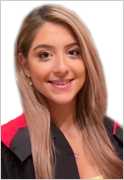 A Focus on Insurance Litigation
Profile:
Petra has a general civil and commercial litigation law practice. Prior to joining MB, Petra worked for a defence firm in Toronto where her primary focus was and continues to be civil litigation including motor vehicle collisions, slip and falls, product liability, property loss, and subrogation. She has vigorously and successfully represented several of Canada's top insurance companies before the Ontario Superior Court of Justice, Small Claims Court, and License Appeal Tribunal.

Prior to private practice, Petra worked for the Canada Border Services Agency (CBSA) as a Policy Research Analyst and went on to join the CBSA Legal Services Unit. Petra then started her litigation practice at the Department of Justice Canada where she provided advisory and litigation support on various national security matters and claims initiated against the Attorney General of Canada. Her diverse work experience in both the private and public sectors enables her to deliver pragmatic and strategic legal advice in a wide variety of litigation matters.

Petra's practice remains focused on finding efficient solutions for her clients, whether through settlement or trial. Petra is passionate about advocacy and welcomes the opportunity to represent her clients in both official languages.

In her spare time, Petra enjoys traveling, whether touring the Nation's capital city on her bike or backpacking Europe. Countries she has crossed off thus far include Switzerland, Italy, Spain, Netherlands, and Turkey. So, it is no surprise that she was named after the ancient city of Petra in Jordan (declared one of the 7 New Wonders of the World in 2007) and that this destination is at the top of her travel bucket list.